Banana Chocolate Icecream
This Banana Chocolate Icecream is such a lovely summer treat that can be enjoyed by the whole family.  With only three ingredients it's definately a healthier version to your every day icecream, so get the kids involved in making this one it's super easy and it's lip smackingly good.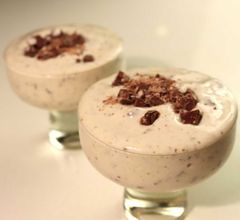 (Makes 3 cups)
Gluten Free, Egg Free, Nut Free, Vegan & Dairy Free option
INGREDIENTS
METHOD
Peel the banana and chop into small round pieces (approx. 1 cm thick).

Place the banana pieces in an airtight container

Freeze the pieces for 3 hours – overnight if possible

Remove the banana pieces from the freezer and set aside

Cut the block of chocolate up into small pieces (these will be added to the icecream later)

Place the frozen bananas in a food processor and pulse to break the pieces up so they become crumbly

Switch the food processor to blending, add the milk and

you'll see the mixture go from blended banana to creamy, soft-serve ice cream texture. Add the chocolate pieces and blend for a few more seconds to aerate the ice cream. 

Serve immediately for a soft-serve ice cream or place in an airtight container and place back in the freezer to harden a little. 
Our Banana Chocolate Icecream can be served with additional chocolate sprinkled on top for added decadence or seeve it up in a gluten free/allergen friendly icecream cone.
Receive 10% OFF your first order when you subscribe to receive our monthly recipes (signup via the homepage)
Want to make it with us? Check out our video below