Chocolate Chip Cookies
These Chocolate Chip Cookies are sooo moorish and taste just like Subway cookies just a little healthier……..your welcome.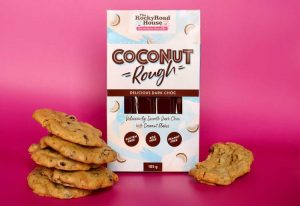 (Makes 24)
Gluten Free, Egg Free, Nut Free, Vegan & Dairy Free
INGREDIENTS
60g butter (Vegan/dairy free option use dairy alternative such as Nuttelex)

1/4 cup packed brown sugar

1/4 cup castor sugar

3/4 cups gluten-free flour

3/4 teaspoons salt (Sea salt, Himalayan)

1/4 teaspoon baking soda

1/4 teaspoon baking powder

40ml water, at room temperature

1 tablespoons vanilla extract

150g The Rocky Road House

Dark

Coconut Rough Block of Chocolate (chopped into small pieces)
METHOD
Preheat oven to 180C or 160C fan-forced. Line 2 baking trays with greaseproof paper. 

Using an electric mixer or whisking by hand, beat butter

and sugars for 1-2 minutes or until smooth and well combined. Beat in water and vanilla until combined and creamy

Sift flour, salt. baking soda and baking powder together and stir into butter and sugar mixture. Stir in dark chocolate pieces. 

Roll tablespoonfuls of mixture into balls and place on prepared trays, 3cm apart. Press down slightly. 

Bake for 15-18 minutes or until light golden and cooked. Transfer to a wire rack to cool. Store in an airtight container for up to 1 week
These Chocolate Chip Cookies are to die for straight out of the oven with the gooey chocolate throughout, but if you like your cookies cold wait for them to cool and make a icecream sandwich with them.
Receive 10% OFF your first order when you subscribe to receive our monthly recipes (signup via the homepage)
Want to make it with us? Check out our video below